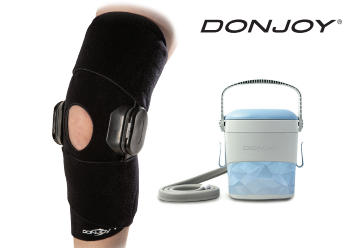 DONJOY ROM KNEE
Double upright hinged knee brace
Soft Knee Wrap Design
Control ROM with settings in 15 degree increments from 0 to 150
Includes integrated Cold Pad
DONJOY ICEMAN CLASSIC
Semi-Closed Loop Circulating Technology
Dual pump system helps deliver consistent cold therapy throughout the pad
Integrated pump housing design creates a quieter more reliable system
New dual hose single button release connector
FOR BETTER OUTCOMES we have bundled the IceMan Classic3®* and the DonJoy® ROM Wrap Knee together. Providing extended cold therapy and knee immobilization for post-op knee surgery, non-surgical knee injuries, pre-op and post-op icing.
TECHNOLOGY ADVANTAGE
Our recirculation system helps deliver consistent cold therapy throughout the cold pad, eliminating freezing inlet temperatures.
Orthopedic surgeons are the third highest prescribers of opioid prescriptions, accounting for 7.7% of all opioid  prescriptions. Opioid use can have detrimental effects on clinical outcomes across the spectrum of
orthopedic subspecialties.  Evidence-based medicine studies indicate that
patients undergoing TKA and ACL reconstruction have benefited from postoperative cryotherapy.
PATIENT CONVENIENCE AND EASE-OF-USE
Designed for easy refill indication
Self-priming, plug-n-play operation
Designed for easy portability and storage
A complete line of cold pads to help deliver cold therapy to where it is needed the most
*Product information listed here from manufacturer website.